What is Hydronic Heating?
Hydronic heating is a radiant technique of warming spaces around the home. This means that the system operates through circulating heated water using natural gases in a furnace installed on the outside of the house, and feeding this warmth through plastic piping to the wall panels affixed throughout the home or flooring system depending on which option you choose. The cost of Hydronic Heating varies quite greatly from Radiator Wall Panels to In-Slab or In-Screed Hydronic Heating, if you would like an accurate quote for your home then contact our office to speak to one of our friendly staff.
Since these systems operate in this manner it means these almost entirely silent heaters do not push around stale air using fans, and instead warm up the elements of a room, which is great news for those suffering from asthma and allergies. With the capability to control which specific rooms are heated, and when they are heated you can save lots of money on your heating bills making this a cheap and efficient way to keep your family warm this winter.
At Mercury Heating & Cooling, we have spent over 15 years sourcing the best possible products on the Hydronic Heating market so that our customers will always get the best value for money. We offer only the highest quality, most sought-after brands such as Bosch, Immergas, Giacomini, Heimeier, Uponor, Rehau, Tiemme and many others so that you can rest easy knowing that your new Hydronic Heating system from Mercury Heating & Cooling will be reliable and efficient for years to come.
To find out more about Hydronic Heating cost, call Mercury Heating & Cooling on 1300 13 53 43 or contact us via our Contact Page. We are Melbourne's Hydronic Heating specialists, with over 15 years experience and thousands of installations right across the city of Melbourne. Alternatively, if you want to look at some of the more detailed specifications of our Hydronic Heating products you can look at our range of hydronic wall radiator panels, gas boilers, hydronic heating piping or our hydronic valve range.
Hydronic Heating Benefits
It is unaffected by outside temperatures

Regarded as the healthiest heating option

The most comfortable way to heat your home
Why choose Hydronic Heating?
Hydronic Heating is often considered the 'premier' form of home heating because it is virtually silent, low maintenance, gives an even temperature spread and doesn't cause any cold air flow/drafts from fans. Many people also choose Hydronic Heating because it's a way to heat your home without blowing any dust or allergens around. These systems use water to provide heat, this water is recycled and re-circulated through your system to be as environmentally friendly as possible. Because of these benefits, the popularity of Hydronic Heating in Melbourne has grown rapidly in the past several years and Mercury Heating & Cooling have cemented themselves as the premier Hydronic Heating installation company across the Melbourne as a result.
Benefits of Hydronic Heating over Gas Ducted Heating
Operational efficiency (20-25% cheaper to run than most gas ducted systems on average)
Healthier alternative for any asthma or allergy sufferers – hydronic heating is clean and free of dust/fans
Hydronic Heating produces a more comfortable and consistent heating level throughout your home than gas ducted heating
Hydronic heating systems are generally more reliable and long lasting than gas ducted heating system
Hydronic Heating operates silently, unlike the sometimes noisy air vents of gas ducted heating systems
Hydronic Heating in Melbourne?
Although there are many different types of home heating available for Melbournians, Hydronic Heating must always be at the top of the list when it comes to choosing a suitable heating system for your property.
1. Melbourne is well known for it's high pollen count during the spring months of the year and Hydronic Heating is fantastic at heating your home without any of those pesky pollen traces being blown around your home and stirring up your allergies.
2. The bitterly cold winter mornings. The winter time in Melbourne can bring some very, very chilly mornings and days, especially when the sun doesn't come out. The efficiency and silence of hydronic heating systems means you can schedule your system to turn on before you wake up without waking up your whole household. There is nothing more comfortable than waking up to an comfortably heated home on a cold winter's morning.
3. The cost of living and house prices are already high enough in Melbourne, why not save money on your bills by switching to a Hydronic Heating system and reducing your running costs of your existing gas ducted heater by 20-25%.
Hydronic Wall Radiator Panels
With a vast array of different widths, heights, depths and even a selection of stylish designer panels we have the perfect hydration heater for every Aussie home. Check out our
Hydronic Radiator products
page for more info.
One highly popular option for customers is our Towel Rail Panels that come in the option of white or chrome finish. These panels not only heat up the cold bathroom on those freezing winter mornings, but also dry your towel and have it ready to engulf you in beautiful warmth after your shower.
Each room throughout the premises has it's own thermostat to control the individual temperature of that particular room. With automatic timers you can pre-set the time and temperature you would like your heaters to operate at.
With only 10-15 minutes for the water in your heater to reach the desired temperature, you'll be enjoying the heavenly warmth in your room in only 25-30 minutes.
Mercury Heating & Cooling are one of the most trusted Hydronic Heating installation companies in Melbourne. To find out more about Hydronic Heating Radiator Panel Installation, call us today on 1300 13 53 43.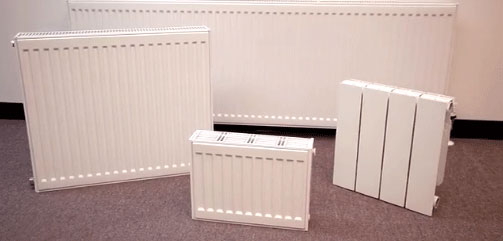 Hydronic Floor Installations
Before your builders pour the concrete slab down, we affix the
heating pipes
to carefully measured re-enforced metal bars that will sit inside the concrete slab. This process ensures an even distribution of heat.
This particular system takes an extended amount of time to reach its intended temperature as it is working to heat the entire concrete slab. For this reason this type of flooring is highly recommended for those that live in a colder climate where you would experience prolonged periods of cold. The general intent is to keep this heating system on the entire winter period, and simply turn down the warmth when needed.
This type of product would be perfect for a Melbourne Winter, but may not be as efficient during the Autumn and Spring months where the temperatures can change from freezing to boiling in the same day.
Whilst you can control your heating by selecting zones, such as the front or back of the house to receive heat, it is not as agile as other options, where you can determine the heat of a specific room since it's aim is to heat the entire slab.
In Screed Hydronic Heating
This process occurs after the concrete slab has been placed. The
heating pipes
are placed on an insulating foam board that is then covered by screed, which customers will then cover with their preferred choice of flooring material.
This type of hydronic heater does not take quite as long as 'in slate' to reach it's intended temperature, and as a result is a preferred option for those who live in areas where the weather is less predictable like Melbourne.
Since this option is not in the concrete itself, you can install it to control individual rooms and sections of your house.
Both floor options must be selected during the initial planning and building phases of your home, as it is dependent on Mercury being able to work with your construction team and contractors.
Hydronic Heating systems recycle the same water around the system so it is important to maintain clean water as rust/oxidization can create problems with both water flow and inside the internals of the Boiler that can result in shortened lifespan or costly boiler repairs.  For best Hydronic Heating performance you should have your system serviced regularly, every 2-3 years. We can easily test the water to determine if a power flush is required to ensure that your system is running smoothly and to avoid bigger problems further down the line. Below are images of our Power Flush Machine at the start and end of the Power Flush. It is easy to see the contaminants in the water that are extracted by the special detergents and magnetic filters.
Any time there is a new boiler installed onto an existing system (panels or slab) we strongly recommend a Power Flush to ensure clean water in the system and new boiler.
If you think your system may need a service or power flush then contact Mercury Heating & Cooling on 1300 13 53 43 or submit an enquiry online here.
Take a look at our other Heating options!
Hydronic Heating not the system that you're looking for? Then check out our Gas Ducted Heating page to learn more about our other most popular type of home heating.